Main content starts here, tab to start navigating
Catering
Slide 1 of 4
Slide 2 of 4
Slide 3 of 4
Slide 4 of 4
Hosting a party, business function
or tailgate?
Plenti would love to cater whatever special occasion it is!
Click on the "Inquire Now" button below to fill out your request and we'll get back to you within 3 hours with more information, pricing, and suggestions.
You can also find us on EZCater!
Standard Order
Our standard order comes with:
Bases - White Rice, Brown Rice, Spring Greens
Proteins - Chicken, Shrimp, Tofu
Toppings - Jalapeno, Green Onion, Cucumber, Avocado, Brussel Sprouts, Marinated Cherry Tomatoes, Cilantro, Pineapple, Cabbage, Plenti, Crunch
Sauces - Big Island Dressing, Sriracha Aioli, Cilantro-Mojo, Mango-dragonfruit, Sesame Ponzu, Jalapeno Vinaigrette
We'll set you up with a station for your guests to walk through a line and build a bowl that to their liking.
This package has Plenti of options for all of your guests, including those with dietary restrictions like vegan, vegetarian, and gluten free!
We also offer batches of our Jamaica Elixir, Lemonade and Cold Brew as drink options!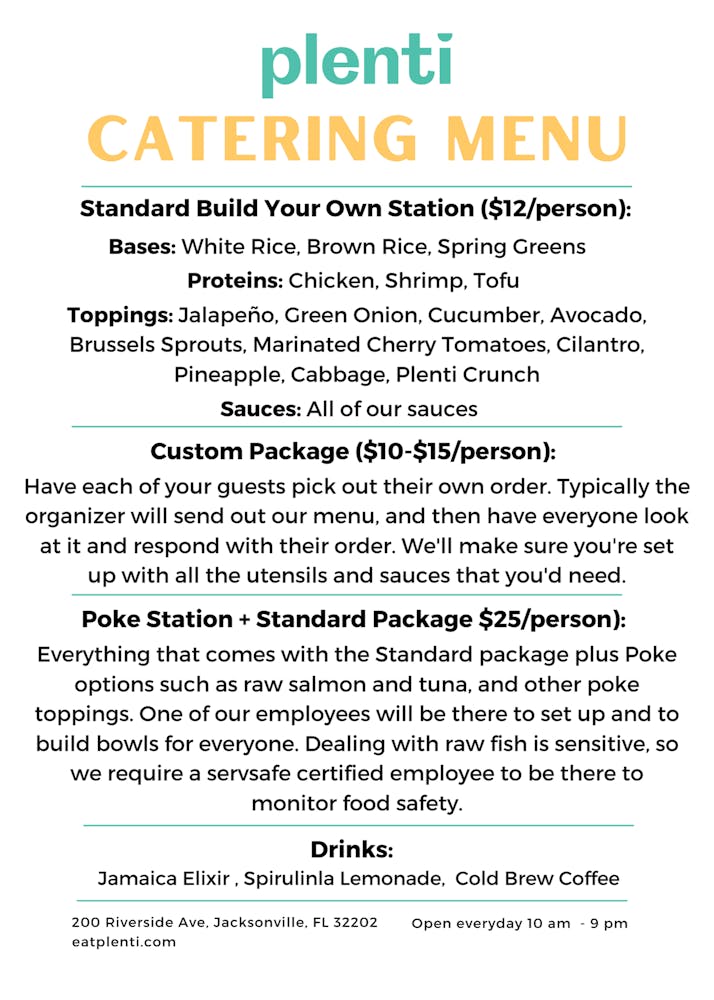 Special Orders
Custom - One way that we've done catering orders, typically for smaller groups, is that we allow whoever is organizing it to place a custom order for each guest/attendee. Typically the organizer will send out our menu, and then have everyone look at it and respond with their order. Then the organizer will send me an email with everyone's orders. We'll make sure you're set up with all the utensils and sauces that you'd need. Delivery is available upon request. Cost is anywhere from $10-15/person.
Poke Station - For those interested in having a build-your-own poke station for your guests, we'll bring all three base options, all the poke toppings, sauces and fish from our menu for your guests to build their own poke bowls. Working with raw seafood needs to be done safely and properly, so because of that we require one of our Servsafe certified employees to be there to help serve the bowls. For this type of setup we have a minimum requirement of 20 guests and the cost is $25/person.
FAQ
Does Plenti deliver?

Yes! Delivery and set up may be available upon request.
What if my guests have dietary restrictions?

No worries! We have several bowls that fit the restrictions for vegans, vegetarians, and those that are gluten free.
Do I need to get my own plates, napkins, cups, and cutlery?

Nope. We bring everything!
How do I make an online catering order?

Fill out the request form using the "Inquire Now" button above and we will get back to you right away!